MEET OUR PRACTITIONERS
The experts at NeuraPerformance Brain Center have the experience, education, and passion necessary to transform your lifestyle whether you're seeking a boost in athletic performance, an alternative Aspergers treatment, or relief from your chronic pain. Keep reading to get acquainted with our practitioners.
---
Shawn Caldwell, DC.
Clinic Director
Dr. Shawn Caldwell has earned a nationally recognized reputation in chiropractic care. His experience shines through in his role as the team chiropractor for the Colorado Rockies, Team Consultant for the Denver Nuggets and former team chiropractor  for the Denver Broncos for 13 years, as well as a team member of the world-renowned Steadman Hawkins Clinic.
For more than 25 years, Dr. Caldwell has been sought out by patients from every walk of life. He's treated thousands of individuals, including young children, club and
school athletes, and adults of all ages, looking to manage and improve daily function and optimize their health. He has helped many of the world's most well-known and respected amateur and professional athletes achieve their goals through proactive chiropractic treatment. Athletes and entertainers from every part of the world have reached out to Dr. Caldwell for his services during their travels through our state.
A Colorado native, he operates his flagship services at Caldwell Chiropractic in Wheatridge, Colorado. Dr. Caldwell expanded his practice as a founding partner of Denver Sports Recovery in 2013. Dr. Caldwell earned his doctor of chiropractic from Marietta-Georgia's Life Chiropractic College, the largest chiropractic program in the world.
Married and the proud father of four children, he is an avid golfer and tennis player.
---
Rachel Ragsdale, MA, LPC, BCN
Founder and CEO of Neuroptimize
Director Of Brain Mapping, Neurofeedback, And Counseling
Rachel Ragsdale is a licensed professional counselor and neurofeedback therapist. She holds her Masters of Arts in Clinical Mental Health Counseling from Denver Seminary and her undergraduate degree in Psychology from Baylor University. Her clinical experience spans issues from anxiety, depression, and trauma, to peak performance and concussion recovery. She has experience working with clients of all ages and demographics.
Rachel conducts brain mapping and neurofeedback, identifying areas of the brain that are over or under functioning and using neurofeedback to change brain waves, ultimately changing peoples lives. She is passionate about walking alongside her clients to help them find freedom and life transformation through her work. She uses tailored approaches to address clients' root issues in order to facilitate effective change and growth. She has helped countless clients create better functioning brains; restoring their hope and establishing a new, better way of living.
Rachel loves spending time with her dog and her family. She is an avid golfer, adrenaline junky, and she loves everything the outdoors has to offer!
---
Carli Torr M.A, LPCC, BCN
Founder and CEO of Neuroptimize
Neurofeedback Specialist And Counselor
Carli Torr holds Masters of Arts in Counseling from Colorado Christian University. She received her undergraduate degree in Psychology from the University of New Mexico where she graduated Magna Cum Laude. She is a Licensed Professional Counselor Candidate in the state of Colorado and a registered National Certified Counselor. Her clinical experience spans from relational issues, domestic violence, anxiety, depression, and concussion recovery.
Carli is Board Certified in Neurofeedback and conducts brain mapping and neuro-conditioning identifying areas of the brain that need strengthening and developing protocols that lead to self regulation and freedom from feeling "stuck". She believes that no one should have to go through the trials of this life alone and is passionate about helping people of all ages and demographics through their healing journey.
Carli loves hiking, yoga, her puppies, and everything the beautiful state of Colorado has to offer!
---
Andrew Hallm MD.
Medical Director
Dr. Hall believes that wellness comes from within and centers his practice on empowering patients with the tools to proactively manage their ailments and take back control of their lives.
"Health is a state of complete physical, mental, and social well-being, not merely the absence of disease or infirmity." – World Health Organization
Dr. Hall completed his residency in Physical Medicine and Rehabilitation (PM&R) at Johns Hopkins University, and his fellowship in Pain at Beth Israel Medical Center in New York City. He is currently double boarded in Rehabilitation and Pain Management. Dr. Hall received his Doctor of Medicine from The University of Texas Medical Center- Houston and his Bachelor of Science degree in nutrition sciences from Texas A&M University.
As a new Coloradan, Dr. Hall has already fallen in love with the Colorado lifestyle. He enjoys any adventure that allows him to get outdoors and soak up the Colorado sun. When he is not in the operating room or at work at his practice, he particularly enjoys skiing, hiking, swimming, biking, and watching films.
Dr. Hall believes in a multifaceted, patient-centered care. He lives the wellness approach that he teaches to his patients. Dr. Hall is passionate about using his profession and skills to impart a lasting, positive impact on others. He strives to develop collaborative partnerships with his patients through effective communication and education, personalized goal setting and encouragement, and patient empowerment. He looks forward to you being a part of the Colorado Spine & Wellness Center family.
Affiliations & Certifications
Board Certified PM&R
Board Certified Pain
ABPMR
ASIPP
International Spine Interventional Society
---
Angie Noack MA, LPC
Neurofeedback Specialist for Neuroptimize
Angie Noack is a Licensed Professional Counselor Candidate, certified psychotherapist, and Neurofeedback Specialist. She holds a Master of Arts in Counseling from Colorado Christian University where she graduated with honors. Further, she holds a Bachelor of Arts in Behavioral Science and Music Performance from Mid-America Christian University. Her clinical experience ranges from treatments of addictions, domestic violence, anxiety, and depression, to concussion recovery and performance anxiety.
Angie is in the process of becoming a Board Certified Professional in Neurofeedback. She uses brain mapping and neurofeedback to identify areas in the brain that need strengthening and, ultimately, healing. She believes in a holistic approach to treatment by combining her skills as a trained counselor with her experience in neurofeedback to help change her clients' lives for the better.
Angie is originally from Washington State where she learned to love everything the great outdoors has to offer! She values fitness and snuggling her puppies whenever she gets the chance.
---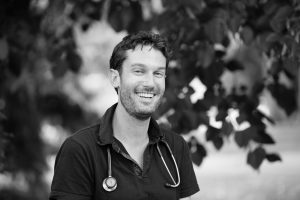 Ben Wilks, MD.
My love for medicine was born when I spent a summer riding across country as a sophomore at CU Boulder. I spent 65 days on the seat of a bicycle covering 3600 miles from San Francisco to Washington DC to raise money and awareness for people with developmental disabilities. It was at that point that I decided to devote my life to a career in service to others.
ACADEMIC
BS at University of Colorado Boulder
MS at Wayne State University, Detroit, MI
MD at Michigan State University College of Human Medicine, Grand Rapids, MI
Residency in Emergency Medicine at Baystate Medical Center/Tufts in Springfield, MA
Currently employed as an Attending Emergency Physician at Longmont United Hospital and UCHealth
Fun facts:
Before med school I was a downhill mountain biking tour-guide on the World's Most Dangerous Road outside of La Paz, Bolivia
Grew up on a farm in Snow Camp, NC raising goats. And yes, my goat trophies from the NC State Fair are my most prized possessions, well second to my dog Grace.
If I'm not working in the ER, you can usually find me on a hike with Grace (Irish Wolfhound)
Riding my road or mountain bike on the roads or trails outside of Boulder
Listening to live music with aspirations of learning to play the guitarron (Bass player in Mariachi band)
---
Gina Karnisovas, EdS., MA. LPC.
Neurofeedback Specialist for Neuroptimize
Gina has a Master Degree in Human Development with a specialization in sport psychology from Boston University. She has also earned a Master Degree in Mental Health and Counseling, an Education Specialist degree and completed an additional certificate program in sport psychology at Seton Hall University. Her experience with sport and performance psychology has helped her navigate life as much as it's guided her in helping others. For nearly 20 years she's been intimately involved in the world of sports both personally and professionally. She holds 2 Black Belts, one in Mixed Martial Arts and another in Tae Kwon Do. She is an avid runner and competes in occasional mixed distance events. She has worked in the field of neurofeedback for the last 3 years and strongly believes in the efficacy of training the brain to self-regulate. She has completed the basic certification course work and is working toward her board certification in neurofeedback through BCIA. Additionally, Gina is a licensed professional counselor. She has worked for more than 10 years counseling and coaching individuals of all ages, groups/families and performers and is adept at tailoring action plans to the unique needs of the client.
---
Kyle Morgan, DO
Board Certified in Pain Medicine
Board Certified in Physical Medicine and Rehabilitation
Kyle Morgan, MD has received board certified in both pain medicine and physical medicine and rehabilitation Dr. Morgan specializes in sports medicine for athletes of all skill levels, concussion management, and pain management for chronic sufferers. His dedication to patient health through education and innovative treatment options has allowed him to successfully treat many patients throughout the duration of his practice.
Dr. Morgan graduated Magna Cum Laude from Mississippi State University, where he received a bachelor of science degree in biology and education. He received his doctor of osteopathic medicine degree from Kansas City University of Medicine and Biosciences. Dr. Morgan completed his internship at the Bay Area Corpus Christi Medical Center, followed by a residency in physical medicine and rehabilitation (PM&R) at Baylor College of Medicine/University of Texas. He maintains professional memberships in the American Academy of Physical Medicine and Rehabilitation, American Osteopathic Association and also the Christian Medical and Dental Association.
Born and raised in Greenwood, Mississippi, about 130 miles south of Memphis, Dr. Morgan moved to Colorado after accepting a position here at STAR in 2011. Patients find his southern drawl and bedside manner endearing.
Dr. Morgan is an avid outdoorsman, hunting and fishing, running, and golfing whenever time allows. He enjoys spending time with his wife, being active in his community and church, and learning more about proper nutrition.
Education
Residency: Physical medicine and rehabilitation, Baylor College of Medicine, University of Texas
Internship: Bay Area Corpus Christi Medical Center
DO: Kansas City University of Medicine and Biosciences
BS: Biology and education, Mississippi State University
Memberships
American Academy of Physical Medicine and Rehabilitation
American Osteopathic Association
Christian Medical and Dental Association
---
Kirk Prochnio, PA-C
Since January of 2010, Kirk Prochnio, PA-C has been a member of the team here at STAR. Specializing in nonsurgical orthopedic medicine and pain management, Kirk is dedicated to promoting health and wellbeing through patient education. He believes in a team approach to care and encourages his patients to be active participants in their treatment process.
A native of Colorado, Kirk grew up in the Wheat Ridge/Golden area. He received his undergraduate degree in environmental biology from the University of Colorado in Boulder, where he developed an interest in medicine. Kirk completed EMT training and certification and later returned to school to complete his master's degree and physician assistant certification in 2004.
An advocate for the wellbeing of teenagers in Colorado, Kirk's first experience as a certified PA was in adolescent medicine at a juvenile detention facility. His hobbies include hiking, camping, gardening with his wonderful wife, and reading.
---
Brooke Albert, PA-C
Brooke is originally from Cape Coral, Florida. She received her undergraduate degree in Sports Medicine and Exercise Science at the University of West Florida where she gained her interest in medicine with emphasis on biomechanics and helping people remain active. She completed her master's degree in Physician Assistant Studies at MCPHS University in Boston, Massachusetts.
Her love of the outdoors made her leave the big city and brought her out to Colorado. She enjoys fishing, hiking, camping and snowboarding any chance she can get.
---
Neuraperformance Baseline Testing
---
Tyler
Tyler was born in Baton Rouge, Louisiana and grew up in Des Moines, Iowa. Becoming an all-state running back and track athlete, Tyler went on to play football at the University of Northern Iowa. As a captain, leading tackler at UNI, he obtained his BA in business with a minor in Economics. Using his business degree he worked in the front office of the Chicago White Sox for five years and two with the Denver Nuggets. Aggregating his sports experiences Tyler then pursued his passion of using sports to further enrich the lives of young people in helping launch the Colorado Chapter of Positive Coaching Alliance. After five years with the PCA, Tyler expanded his passion launching his own endeavor Elevate Educate Rejuvenate to raise athletes leadership skills through athletics.
Having encountered concussions and overcoming a spinal fracture in college, Tyler's passion to help young athletes has combined into helping NeauraPerformance expand it's impact.
---
Neuraperformance Brain Center
Wilmington North Carolina
---
Tamara Collins
Managing Partner
After attending Boise State University, Tamara effectively built and operated three successful sales and marketing businesses in California, Arizona, Idaho and Colorado. In 2016, while running a healthcare diagnostic business that specializes in health optimization, Tamara made the decision to move herself and her boys across the country to Wilmington, North Carolina. This gave her the freedom to spend more quality time with her two boys while raising them as a single mom.
Through an immediate family need she became aware of the benefits of "neurofeedback" and its practical application. Her passion and first hand account of the benefits, led her to get extensive training in the field and create the North Carolina Neuraperformance Group.
In Tamara's leisure time she is dedicated to feeling fit in mind, body and soul and enjoys all of the water activities in the Wilmington area with her family and friends.
---
TRS Neurofeedback
---
Dr. Yvonne B. Tate, PH.D., LPC, BCN, TRS Neurofeedback
Dr. Tate has over 13 year's of Neurofeedback experience. and more than 1000 QEEG assessments. Dr. Tate has been Board Certified in Neurofeedback since 2006. She also completed qualifications to teach the Didactic course for Board Certification in Neurofeedback in 2016. She will complete the requirements for QEEG certification in 2017. Dr. Tate is also the Director of Neurotherapy Services at the Rocky Mountain Memory Center (RMMC) in Fort Collins. The RMMC is neuropsychology clinic that has developed a unique neurocognitive rehabilitation program to provide a balanced approach to brain health and wellness. Dr. Tate offers QEEG and Neurofeedback services at this location for clients with various issues including sleep and attention problems, mood regulation issues, anxiety, depression and trauma. Services are available to children and adults of all ages. Dr. Kathleen Lauren, Clinic Director and Founder, is a licensed Clinical Psychologist and Neuropsychologist and has been in private practice since 1997.